A marshal is a warranted officer of the marshallate for the west. The marshallate is headed by the Kingdom Earl Marshal. It is divided into armored combat, archery/thrown weapons, equestrian, fencing, scouting,siege weapons and youth combat activities.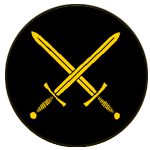 Each activity has its own set of rules, marshals roster and seperate training processes for new marshals.
Armored Combat
Edit
SCA Duke University - YouTube videos of various Dukes teaching technique.
Duke Bellatrix's School of SCA Fighting - A great source for learning the basics.
Rapier Combat
Edit
West Kingdom Rapier Website - Sources for SCA Rapier fighters in the West Kingdom.
Youth Combat
Edit
West Kingdom youth Combat Rules - Rules covering Armored Combat for ages 10-15 in the West.