Information
Edit
Full Name: Stronghold of Battle Rock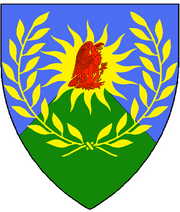 Seneschal - Lord Otto Spilman- seneschal@scabattlerock.com

Exchequer- Lady Eflida of Battle Rock exchequer@scabattlerock.com

Herald - Lord Athelstan - Herald@scabattlerock.com

Marshal - Lord Otto Spilman - lightmarshal@scabattlerock.com

Minister of Arts & Sciences - Lord Chrysanthos of Thebes aands@scabattlerock.com

Web Minister - Lord Otto Spilman - webmaster@scabattlerock.com

Chatelaine - Lord Otto Spilman chatelaine@scabattlerock.com
The Stronghold of Battle Rock is the local chapter of the Society for Creative Anachronism located on Okinawa. Our group is called a Stronghold because it is located at a military base where members come and go, often with little notice, due to their military duties. This particular Stronghold gets its name (Battle Rock) from the history of its location. One of the bloodiest battles in the Second World War was fought here, over an 82-day period, in the final months of the war. Five hundred years prior, the three petty kingdoms on Okinawa (Hokuzan, Chūzan and Nanzan) were united into a single kingdom - the Kingdom of the Ryūkyūs. This independent kingdom enjoyed a period of open trade until 1609, when it fell to the Tokugawa Shogunate and became a dependent territory of Japan. Today, SCA members meet here to recreate the happier aspects of medieval history; not just that of this area, but the history of all the known world that had contact, trade relations or influence with the European kingdoms of the period, circa pre-17th Century.
2014 is a slow year on Battle Rock due to a large PCS season, We will continue to push for new members. Recovery will be slow but we will be back to our normal populations size soon. Populace meetings are held the first Wednesday of each month at 1900 at the Kadena USO building, just inside Gate 2 on Kadena Air Base. Arts & Sciences classes and workshops are the remaining Wednesdays of each month at the same time and location. Fighter practices are the last Saturday morning around 0900-1200 at the Camp Foster SPOT If there is a 5th Saturday in the month, we usually spend that morning on a membership drive (arrangements made on a case-by-case basis).
The Stronghold of Battle Rock is based at Kadena Air Base on Okinawa Island. We hold our weekly meetings at the Kadena USO (just inside Gate 2) on wednesday evenings at 1900 HRS (7:00 PM). This map shows the location of our group's territory. If you live within this area, we are your local chapter of the SCA.   Please Click here for an interactive map with descriptions.